I'm Not Dead Yet
(as of November 2016)
To get a better understanding of WHY someone would make a site like this, click this link.
In the meantime..watch this.
Latest Stuff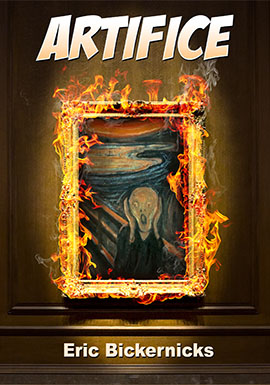 Fiction
Would you like a couch with that painting?

Obscurity is a way of life for Gavin Vonn Getch, a painter who works at a frame shop in a small New England town. His life changes when billionaire Gary Eastman enters his shop and becomes the ultimate patron: a lifetime commission for all his work in exchange for a crap-load of money.

Some of his artist buddies envy him and others think he's sold out. Curious as to where his paintings are being displayed, he makes a trip to the DLC headquarters, where a shocking discovery forces him to reevaluate his deal with Eastman and his identity as an artist.

Why does an artist create? What alternatives are there to completely selling out? Is there no genius—only marketing? The book is a satirical, and sometimes surreal look at the art world.
Artifice Book Trailer
This book trailer contains voices from the audio book. Watch this to get a better idea of what you're getting into.

Audio Book
Are you illiterate? OK fine, how about the audio book version? The book is read by the author, along with 40 different voice actors for each of the different characters. The dialogue in the animated book trailer was created from this audiobook. Time: 5 hours 40 minutes.

Play the sample below.
I'll show you where to find the free versions online.
Special deal for people paying attention: I'll give you a free Audible download code if you just ask via e-mail!

Audiobook Reviews

Elsie's Audiobook Digest Review - ★★★★★
This audiobook is fantastic! It's dark humor combined with mystery. I can't recall the last time an audiobook made me laugh out loud so many times, It's that funny! The character Gavin has a dry sense of humor that I adored. All the characters in this audiobook are memorable and Gavin's interactions with them are hysterical.
Throughout this nearly 6-hour audiobook, I was wondering how this story was going to play out. It kept you guessing until the end.
I'm not a fan of author's narrating their own works, but Eric Bickernicks totally nails this reading. His narration was completely engaging and I can't imagine any narrator doing a better job than he did.
I hope this won't be the last I hear from Mr. Bickernicks. He has a real talent for storytelling. This audiobook deserves to be heard. Artifice will surely increase your happiness quotient.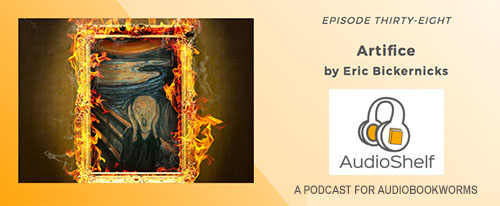 Book Reviews
Smashwords Review
, Morgan Stone -
★★★★★
Eric Bickernicks, "Artifice" literally had me falling off the treadmill. So hilarious, it was! Let me tell you, Bickernicks can really tell a story! Reminiscent of Neal Stephenson's, "Zodiac," but wittier and more intriguing, in my opinion -- and I'm a diehard Neal Stephenson fan. Also worth noting is, had this been a Neal Stephenson novel it would have been 20 bucks – and Artifice is out there for free – thanks Eric! It's gritty, irreverent, fast-paced action and suspense. It's also a pretty interesting (disturbing) look at the psyche of an independent artist – (writer, perhaps?) I think it holds a mirror up to any of us who have tried to impress the world with our own creative endeavors, or even just get noticed, remembered, acknowledged. Artifice effectively ignites the question, "what's it all for?"
Amazon Review
, Mo7 -
★★★★
I wish I could write a review as deftly as Bickernicks writes novels (or this novel, at least). Artifice had me alternately laughing out loud and gripping the edges of my Kindle with the comedy and suspense of this story. The dialog was sharp, the attention to details was even sharper. This is one of those books that runs through your mind as a movie as you're reading it. Very entertaining!
Amazon Review
, Kadlady -
★★★★
I downloaded Artifice by Eric Bickernicks because I loved the premise of a satirical look at the art world. Having a degree in art history and having worked at a major museum in NYC, this is a world with which I am familiar. I spent much of the time laughing at the portrayal of artists and patrons in this book. I loved the personalities of the different artists in Gavin's circle, which were so close to truth! Gavin's interactions with the billionaire and his company were hysterical and satisfying at the end. A truly fun read! Watch the trailer if you need more convincing!
Amazon Review
, Joanna Ballard -
★★★★★
thoroughly enjoyed the read and humor read it on sitting and laughed out loud at art scene characters I recognized. Thank YOU fr writing this!
Amazon Review
, Savvy -
★★★★★
Great story, it has a little bit of everything: comedy, wealth, danger, girl-boy romance; a surprise ending! It even has good food in the background ! I lived in the keys in the 60's, & loved it!!
Amazon Review
, V Stewart -
★★★★
This is a fun book which kept me entertained and engaged through to the end. As an artist, I did enjoy the comments about art and artists. I spent most of my formative years in South Florida and yes, I know about that authentic key lime pie that cannot be found anywhere else on the planet. President Nixon used to have those pies flown up to the White House.
Amazon Review
, M Lynn Gorman-
★★★★
I liked how the story went from hope, to depression, then back to hope.
Funny in places and dark in others.
Amazon Review
, Clif Flynt -
★★★★
This is a fun read. It's just funny enough to keep the plot from being depressing.